Join us Saturday, October 14th to View the Partial Solar Eclipse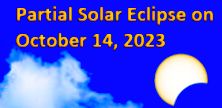 An Annular Solar Eclipse on Saturday, October 14
will produce a partial eclipse over West Michigan.
The observatory will be open to the public to
view the solar eclipse through a solar filter.
Partial Eclipse ( Max Eclipse: 38.5% )
Start: 11:40 am
Max: 12:59 pm
End: 2:21 pm
Hemlock Crossing Public Observatory
The observatory is open to the public on Friday evenings throughout the year whenever viewing conditions allow. Dress appropriately as the temperature inside the observatory will match the outside ambient temperature. Night sky tour includes: visible planets, the Moon, galaxies, star clusters and planetary nebulae. When viewing conditions call for overcast skies, chance of rain or snow, the viewing session will be canceled.
Club Meetings
Club meetings are open to the public. They occur at 7pm on the second Thursday of the month throughout the school year (September – May). Meetings are held in the planetarium at Macatawa Bay School 3700 140th Avenue, Holland, Michigan. There are no club meetings in the summer months (June – July – August).
Click here for directions to Macatawa Bay School.
Lectures at Hemlock Crossing
SAAA presents informational and educational lectures at Hemlock Crossing inside the Nature Education Center on the second Saturday of the month. Programs are followed by public observatory sessions accompanied by member's telescopes. The goal is to have fun while learning.
2023 Lecture Schedule
Date
Time
Title
Presenter
Jan 14

7 pm

Lecture:

Women in Astronomy

Peter Burkey

Feb 11

7 pm

Lecture:

Artemis I – Mission Update

Mike Long

Mar 11

7 pm

Lecture:

Spring Sky

Frank Roldan

Apr 8

8 pm

Lecture:

James Webb Space Telescope

Mike Cortright

May 13

8 pm

Lecture:

Summer Sky

Frank Roldan

Jun 10

dusk

Public Observatory Night

SAAA Members

Jul 8

dusk

Public Observatory Night

SAAA Members

Aug 12

dusk

Public Observatory Night

SAAA Members

Sep 9

8 pm

Lecture:

Ring of Fire / Annular Solar Eclipse

Jim Reier

Oct 14

7 pm

Lecture:

Fall Sky

Mike Long

Nov 11

7 pm

Lecture:

Telescope Basics

Frank Roldan